LINTRAY: THE LINTEL AND CAVITY TRAY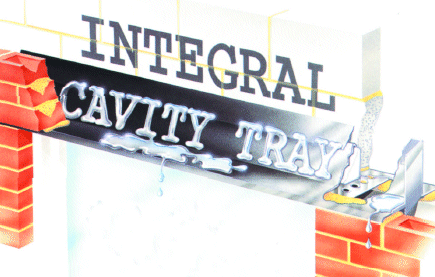 THE ULTIMATE LINTEL If you are now convinced that stainless steel is the material to use, you already have 90% of the best cavity tray money can buy, for a small extra cost specify the Lintray*.
The Lintray* is a stainless steel lintel with welded stop ends and end plates. It can be installed as easily as any other lintel. It costs about the same as an equivalent collection of galvanized lintel, plastic cavity tray and stop ends with a far superior long term performance.
Itís also very forgiving when it comes to installation, compared with the problems of fixing plastic stop ends in cold, damp weather when the site operatives are working in difficult conditions.
Lintray* works very simply by anticipating all the weak points for damp and the ingress of water in a standard lintel installation and providing a permanent, watertight solution in each case.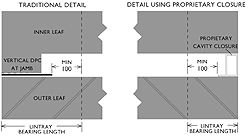 The Lintray* is available on all lintels where Lintray* is shown under optional features.
The Lintray* has been designed specifically to provide a perfect cavity tray combined with an integral stainless steel lintel, suitable for use anywhere in the U.K., regardless of severe exposure to driving rain.
The Lintray* consists of three specific barriers to protect against the elements:
Barrier 1
The first barrier to exposure are fully welded stop-ends which reach out into the horizontal mortar joint halfway through the outer leaf.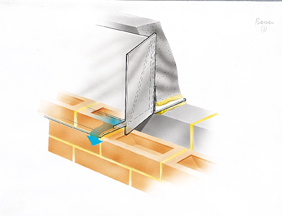 Barrier 2
The second barrier comprises fully welded tapered end plates which direct water (in the unlikely event barrier 1 has been bridged) to the outer leaf, even if the Lintray* has been installed sloping towards the inner leaf.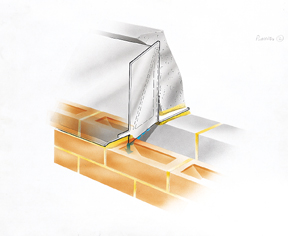 Barrier 3
The stop-ends and tapered end plates are a minimum of 150mm beyond the end of the base-plate. In the extremely unlikely event that water has bridged barrier 1 & 2, it is necessary for the moisture to track back 150mm before it can cross to the inner leaf. The Lintray* is as easy as a lintel to install and entirely eliminates the risk of damage to, or incorrect installation of, flexible DPCís, or plastic cavity trays by site operatives. The concern surrounding the secure and permanent watertight adhesion of plastic stop-ends in cold wet weather is also eliminated.